Hard Rock Summer
APHA / PtHA / SHOC
Stallion
Homozygous Tobiano
Homozygous Black
(never sire sorrel)
HYPP N/N · OLWS Neg
16.2hh · 1550 lbs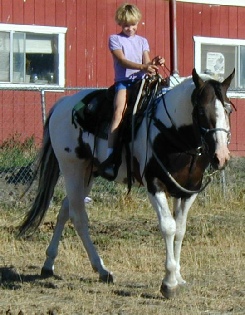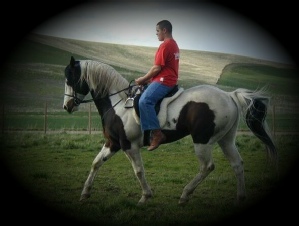 We are very proud of Rocky. He has a wonderful disposition - as you can see with my child riding him - and passes it on to his get.
This stallion has a nice pedigree that is packed with Pleasure, Performance, Halter World Champion horses and Producers. Several of Rocky's ancestors have made it to the Top Ten.
Rocky is 16.2hh, 1550#, and produces nice colorful babies with his beautiful neck, bone, movement, conformation, and disposition.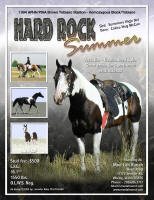 We believe in keeping ourselves informed and having Rocky tested for all genetic problems that may be out there even if there is a remote possibility that they may exists. Rocky is registered tobiano but he also carries overo genes and may sire a tovero. We had Rocky tested for the OLWS (Overo Lethal White Syndrome) and he tested Negative for this. We also had Rocky tested for HYPP and he is N/N. We tested him for HYPP because even though he isn't an "Impressive Bred Horse" we wanted to make sure that he didn't have it through another undetected source. We are devoted to not promoting this sometimes fatal genetic disorder.
We are able to ship semen and he ships very well with a high motility. Please check with us to see if we are shipping semen that year. Rocky was also tested for being Homozygous for the Tobiano gene and also for the black gene and since he is positive on both will always throw color (extra white) and never a sorrel foal.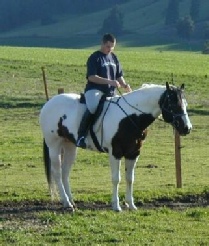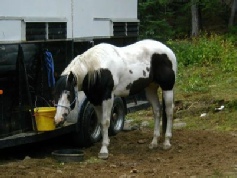 Stud Fee $500 (if booked after Feb 15th )
$400 Prior to February.
Shipped Semen available
100% Color Producer Tested Homozygous for
Tobiano and the Black genes
Mare care per day: $7 dry / $10 wet
Outside pens with shelter: $3 / day owner supplied feed
| | | |
| --- | --- | --- |
| Live Cover contract | Pedigree | Shipped Semen contract |